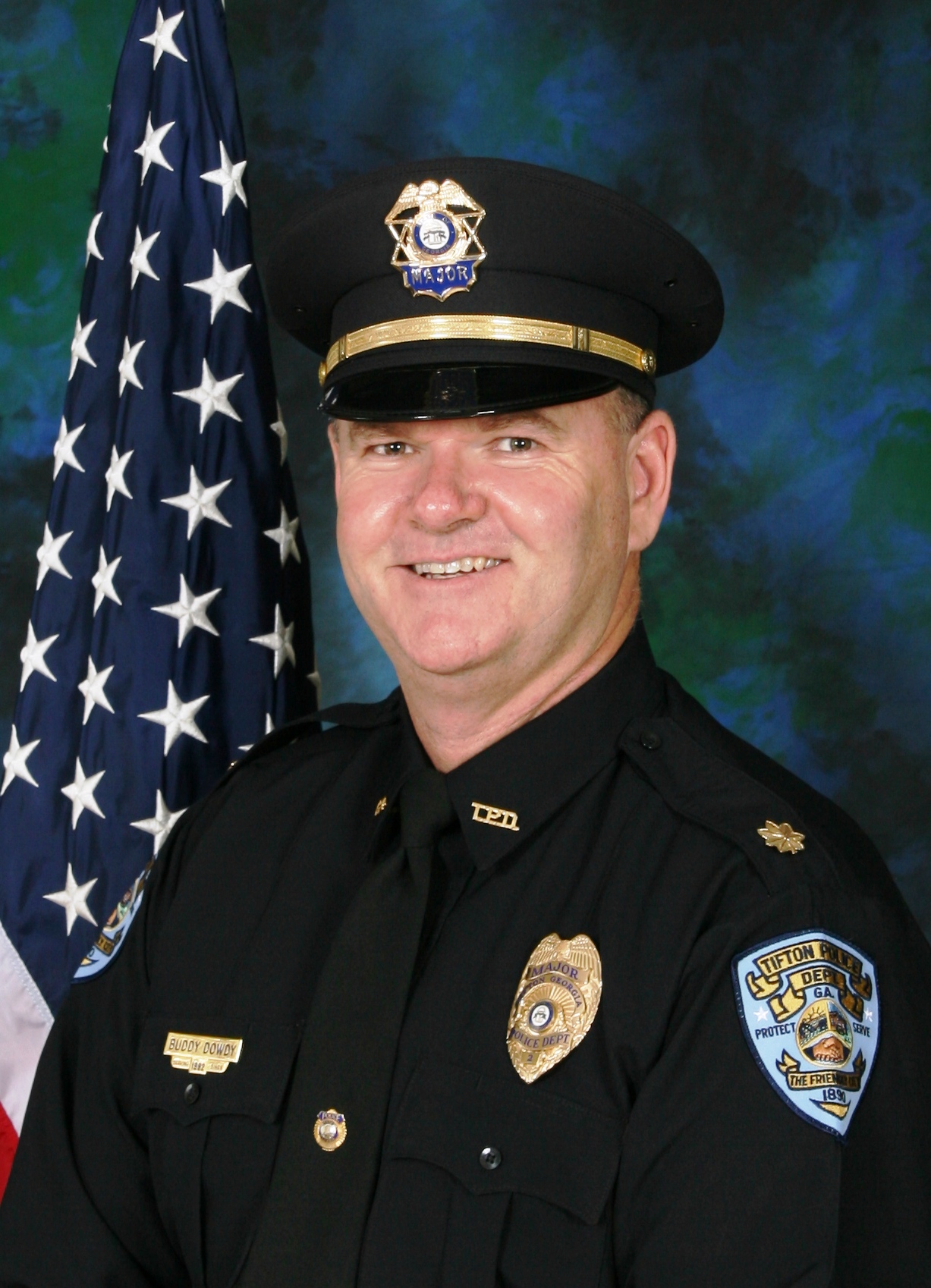 On behalf of the men and women of the Tifton Police Department, I welcome you to our Web Site.
Buddy Dowdy Chief of Police is a 32 year veteran of the Department. Chief Dowdy has his Bachelors Degree in Criminal Justice and a graduate of the National F.B.I. Academy and Georgia Command College.
The Tifton Police Department consists of 60 members 51 sworn full-time, sworn  and 9 civilian personnel, allowing the capability of providing our city with the best possible safety. The Tifton Police department is a state certified agency that was awarded recertification in July 2009.  State certification helps to insure that the Tifton Police Department is prepared to meet the challenges of the future. The City of Tifton is located in Tift County, Georgia, approximately 100 miles South of Macon. Tifton is the geographic center of South Georgia, as well as the intersection of US Highway 82 and Interstate 75. The agency is commanded by Chief Buddy Dowdy.
Mission:
The Tifton Police Department Provides, with Cooperation of the Public, Effective and Efficient Protection of Life, Individual Liberty, And Property of All People Within The City of Tifton.
Vision:
The Vision of the Tifton Police Department Is to Provide the Mission Accomplishment with a High Degree of Crime Reduction and Accident Prevention and the Appropriate Investigation and Apprehension of Offenders.
Community Policing and Problem Solving Philosophy:
The Tifton Police Department operates under a community policing and problem solving philosophy. Our citizens are our best resource when it comes to controlling crime. The members of this Department, in cooperation with our citizens, strive to identify problems and then work as a community to overcome them. We in the Police Department are at the forefront and will do everything needed to make Tifton a safe place for our citizens and visitors.
It is our desire that the information shared with you in the attached pages will provide the best service possible at all times. If you have questions, comments or concerns, please e-mail us at tpd@tifton.net, complete the on-line survey, or call 229-382-3132.